CLOUD HOSTING
A comprehensive Cloud solution. Move data completely to our integraSoft-managed Cloud service.
Avoid server downtime with cloud hosting. With cloud-hosted servers, your locations will always have access to your main server database.
Replaces need for an on-site server. Focus more on your business and let our experts manage your server.
Eliminates additional server contract and maintenance fees.
Rapid restoration of data when necessary. On-site servers can take days to troubleshoot and restore.
Optimize work access for remote employees with included VPN connections for multi-location operations.
Includes Cloud Backup.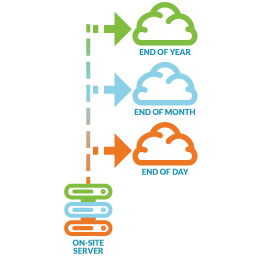 Cloud Backup
On-Site Server-to-Cloud nightly backup of your integraSoft data.
Protect your data against disaster with backups of your month's end and, if requested, year end.
Automatic nightly backups save time – reduce time spent swapping tapes.
Your data remains encrypted and password protected during transition and storage.
Geo-redundant data centers ensure your data is safeguarded at two separate data center locations.
Compatible with most current on-site servers, ensuring ease-of-transition for your establishment.