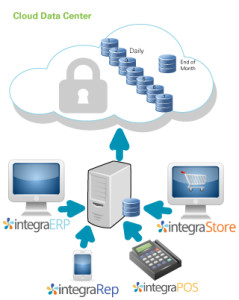 BACKUP PEACE OF MIND
Tired of swapping out tapes? On the weekend? Maybe you don't get it done every day? Where do you keep your month-end or year-end backups?
Having a good backup of your integraSuite data is absolutely critical when you need it. The routine and time spent to ensure you have a regular good backup can be time consuming and inconsistent. Wouldn't you rather spend your time and energy focused on something that will grow your business?
LIMITED BANDWIDTH USAGE
Your integraSoft data may be "large," while your internet bandwidth to upload data to the cloud might be very limited. integraSoft has optimized our BackUp2Cloud because we know what data needs to be backed up on your system. After initial upload we only upload the changes each day minimizing usage of your internet connection and fitting within a nightly processing schedule.
THERE WHEN YOU NEED US
As a managed service we perform on your behalf, we proactively monitor the backup process and provide proactive problem notification. We are also available to assist with the restoration process during your critical time of need, helping to keep your business running.
SAVE TIME & ELIMINATE BACKUP
Get rid of tapes and switch to an online cloud backup of your integraSuite data. Let integraSoft install, configure and manage your cloud backup process. To start with we will back up your integraSuite data to the cloud nightly, retain a copy for the previous seven days, plus a previous "end of month" copy based on when you close your month end. At your request we can keep additional copies including year end for an additional cost.
SECURITY IN THE CLOUD
As your trusted business partner, integraSoft has gone the extra mile to ensure your data is secure in the cloud. Leveraging world class, secure, globally available data centers from Microsoft, integraSoft stores your data in the cloud utilizing Windows Azure Storage Services. In flight, from on premise to the cloud, your data is encrypted during transition. At rest, in the cloud, your data is encrypted and password protected. Each file is duplicated twice within a single data center and replicated to a geographically redundant data center that is at least 500 miles away.